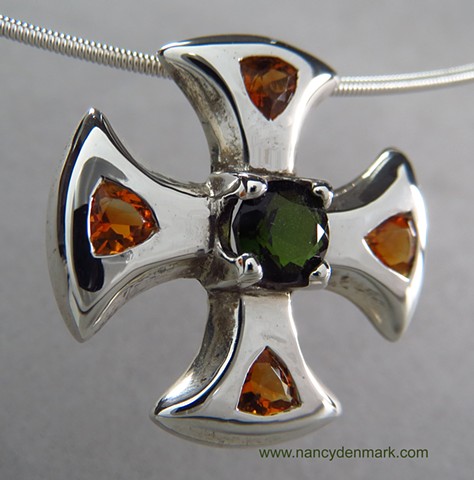 H41 SMALL CANTERBURY CROSS W/ TOURMALINE & CITRINES
sterling silver, green tourmaline, citrines
1" X 1"
Small Canterbury Cross with a round green tourmaline center stone and trillion citrine side stones
available for immediate purchase. pendant only, chains sold separately. contact me for assistance with chain purchase or to arrange multiple purchases from website.
Purchase price link includes shipping to US addresses. To purchase pendant only, click purple price link above for secure online checkout paying by credit card or PayPal.
cross $160 + $10 US shipping/ins = $170 online price
The original Canterbury Cross dating from circa 850 A.D. was discovered in 1867, in an excavation beneath St. George's Street in Canterbury, England. This cross is widely recognized as the symbol of the worldwide Anglican Communion, of which the Episcopal Church in the United States is an integral member.
Canterbury presents to the world a picture of past faith and present hope. Canterbury is the site of the first church established by St. Augustine when he came to Christianize England in 597 A.D. In the Middle Ages, thousands of pilgrims came to Canterbury... more than to any other place in the English-speaking world for inspiration and renewal. Many are still drawn there today.
My Canterbury Cross designs are a stylized interpretation, not intended to be replicas of the original Canterbury cross.
H38 - H42 are all derived from my original design of Bishop Alard's pectoral cross (see H31, H32).
all crosses in this series have hidden loops for chain