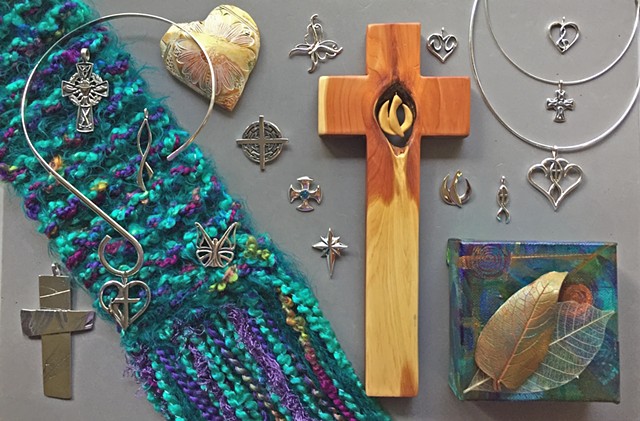 While primarily a jewelry artist, my creativity is unleashed well beyond a jewelry box. As an artist, I try to remain open, willing, always listening and discerning how I am being called to use the gifts I have been given. My inspiration comes from a higher source. I am a faithful "co-creator".
I am now offering print-on-demand products with my nature photographs through Fine Art America. The LINKS page provides more details.
On mobile devices click MENU. Click ARTWORK to enter my web gallery. Clicking each photo leads to more galleries, full size images, info and prices on each piece. To view/download my Christian Symbol Jewelry in catalog form, click BROCHURE. Printing it at 100% shows each design actual size.
To place an order, use the purple price links, contact me by phone, or by message on the contact page. Most items available for quick shipping, have purple price links to make single purchases directly from the website. It is not a full shopping cart function, so arrange purchases of multiple items by message or phone. The LINKS tab provides a page with my social media presence and more.
Link quickly to most frequently viewed sections by clicking these purple titles:
Christian Symbol Silver Jewelry
Bishop Doyle's Pectoral Cross
Collaborative Wood Crosses
Collage & Symbol Wall Crosses
(I am currently editing my website to be more mobile friendly. Until I finish editing, some navigational tips/instructions found throughout the website may not apply.)
Welcome to my website! Explore and Enjoy!